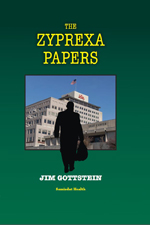 With the Delta Variant raging a book tour is not in the cards so I am offering to mail signed copies of either the paperback or hardcover version of The Zyprexa Papers and only charge postage. This gives you the four choices listed below for the U.S., each having a text box for you tell me how you want me to sign your book. Your browser may say this page is not secure, but the PayPal buttons take you to PayPal's secure site.
I am living on Maui most of the time these days and the Postal Service says it takes 4 to 6 weeks for Media Mail to arrive from here (halfway to China), although my experience is it tends to be closer to 2 or 3 weeks. Priority Mail seems to take about 5 days. For international orders, use the $8.70 Priority mailing cost and I will bill you for the rest. For questions, etc., you can e-mail me at Jim.Gottstein@PsychRights.Org.
Unsigned copies as well as the Kindle and audio versions are still available at Amazon.com. Amazon Prime members don't pay shipping and it is available in various international markets.
---
Paperback mailed by slow boat from Halfway to China (Media Mail).
Paperback: $17.50
Postage: $3.45
Total: $20.95
---
Paperback Sent Priority Mail
Paperback: $17.50
Postage: $8.70
Total: $26.20
---
Hardcover Mailed by Slow Boat from Halfway to China (Media Mail)
Hardcover: $ 34.95
Postage: $ 3.82
Total: $38.77
---
Hardcover Sent Priority Mail
Hardcover: $34.95
Postage: $8.70
Total: $43.65
---
Last modified October 7, 2021