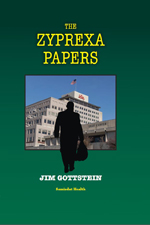 I am living on Maui these days and the Postal Service says it takes 4 to 6 weeks for Media Mail to arrive from here (halfway to China), although my experience is it tends to be closer to 2 or 3 weeks. Priority Mail seems to take about 5 days. During the Holidays it takes longer. For international orders, use the $8.70 Priority mailing cost and I will bill you for the rest. For questions, etc., you can e-mail me at Jim.Gottstein@PsychRights.Org.
Unsigned copies as well as the Kindle and audio versions are still available at Amazon.com. Amazon Prime members don't pay shipping and it is available in all of Amazon's international markets.
---
Paperback mailed by slow boat from Halfway to China (Media Mail).
Paperback: $17.50
Postage: $3.45
Total: $20.95
---
Paperback Sent Priority Mail
Paperback: $17.50
Postage: $8.70
Total: $26.20
---
Hardcover Mailed by Slow Boat from Halfway to China (Media Mail)
Hardcover: $ 34.95
Postage: $ 3.82
Total: $38.77
---
Hardcover Sent Priority Mail
Hardcover: $34.95
Postage: $8.70
Total: $43.65
---
Last modified November 12, 2022